DENVER, CO – After another great day on the trade show floor, I wanted to share some snowboard porn focusing on 2017 snowboards and gear that will be available later this fall. Snowboarding is not dying, if anything it's growing up nicely and these shapes and designs are a testament to that.
Cheers to everyone in the manufacturing and design side of things, snowboarding is here to stay! This is some of the hottest selection of 2017 snowboards 2017
(Snowboards 2017 click photos to expand)
Capita 2017
FLOW 2017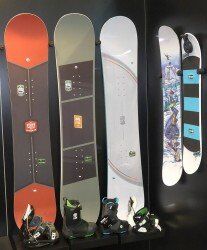 Slash 2017
Lib Tech 2017
GNU 2017
United Shapes
Roxy
Hippie
Smoking Snowboards
Stepchild Snowboards 2017
Burton 2017
My 2016 Editor's Choice Award winners article can be clicking this link!
Arbor 2017
DC 2017
Nitro 2017
Jones 2017
Never Summer 2017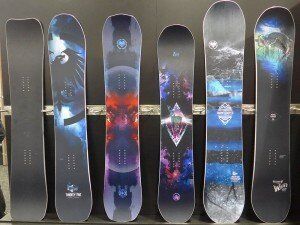 Once again the trend of powder boards is here to stay.. Lets hope that mother nature will play ball and be willing to cooperate. There are seemed to be a lot of brands selling boards and with the maybe too much inventory? I have to wonder how many snowboards someone needs? Its one thing to geek out on snowboards when you live in the mountains or work in the industry. However the average rider is not the person, the average rider can easily get 2-3 seasons or more out of their gear.
So only time will tell which brand flurish and which brand shrink their lines. All I can say is there is a bunch of 2017 snowboards I am really excited to test and help promote in 2017.