Snowboarding has been around for hundreds of years—check out the history of Petranboarders in Turkey if you're skeptical—but aside from a few early hiccups there's never been a drop in stoke.  There's just something about it. No matter how long we've been riding, the elemental attraction to surfing snow is as strong as ever. Snowboarders are willing to endure all sorts of ridiculous conditions and monumental costs to get our fix. We have no qualms about the time, money, and energy incurred for just one more run. Another perfect chute, another lap to hit our favorite jump, hitting flat-out fifth gear on a groomer: we simply love this stuff!
To keep it all deep and philosophical, the time warp of product launches has us happily swirling in a vortex of calendar confusion. We've been having lucid dreams about neo-retro powstyle freeboards, early-rise camber profiles that are actually still awake from last night, and never-wallow swallowtails that only exist on a physics class chalkboard.
Lately, we've been able to get our mitts on some 2024 snowboard gear, and we're stoked to share what the future holds. Here's a hint: it's as awesome as ever! Yesterday was great and tomorrow's looking even better. There's nothing new under the sun, but we're over the moon about what's to come. Snowboarding's like ice cream that way, if you think about it. Everything is everything. Check out our 2024 Snowboard Gear Preview and prepare for launch!
Once you've gotten the lowdown on your favorite brands, head over to our Field Tested Reviews for a deep dive on 2024's most hotly anticipated gear.
Arbor,
Bataleon,
Bent Metal,
Burton,
Capita,
Flow,
GNU
  Shop Snowboards >>>
2024 Arbor Snowboards & Bindings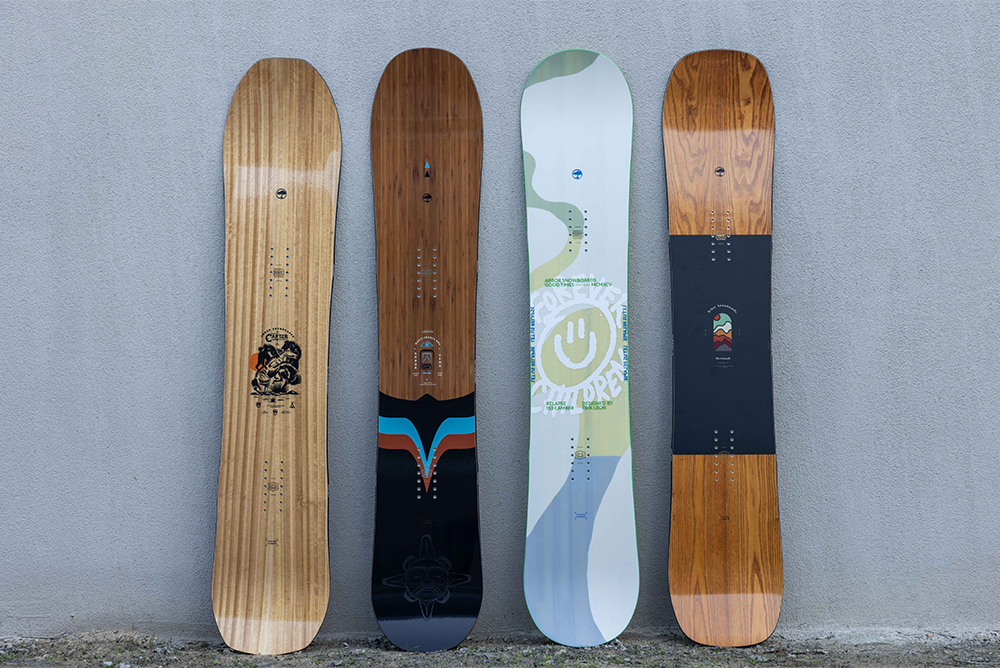 Arbor have some awesome designs for the 2023/2024 season, starting with the all-new Terra Twin and Terra Pin. These two additions to the lineup feature Arbor's new Terra Tech three-dimensional shaping, which reflects their take on powder and mixed snow riding. The 3D shape creates a slot, which works like a channel on a surfboard. It gives the snow that naturally builds up in front of your board a way to quickly move under and away from your nose, reducing pressure and resistance for improved speed and performance in deeper snow.
When it comes to pro-models, we're looking forward to riding Marie-France Roy's signature Veda, Erik Leon's Relapse, and Mark Carter's new Carter board. The Veda is an advanced freeride board built with Arbor's System Camber platform and 1.5-degree uprise fenders for float, turn initiation, and edge hold. The Relapse features toned-down Grip Tech and Uprise fenders to complement a traditional shape and System Camber profile. This board is mindfully crafted to incorporate the Community Outreach Riding Equipment value system into its build, working to broaden accessibility and community. Last but not least is the Carter, whose wider platform displaces volume for stable float without sacrificing the energy transmission and reactive pop necessary for taking more tactical lines. The new Carter features a bit less tip and tail, which comes back to you as hardpack stability and a surfy board feel in powder.
In the binding world, look out for the new Hemlock. This freestyle-focused binding integrates the fully redesigned Hemlock 2 asymmetrical highback and Arbor's System X baseplate for an intuitive board feel and better underfoot connectivity.  The Hemlock offers a softer, yet highly-responsive ride for comfort and confidence all over the mountain. On the technology front, check out Arbor's new plant-based BioStrap on the Cypress and Sequoia bindings. This eco-friendly construction takes the place of harmful petroleum-based plastics, focusing on heel lock and secure fit, with comfortable curvature and a low profile fit. It's stronger, lighter, more sustainable, and the first of its kind!