Whether you're a weekend warrior casually cruising the resort or a seasoned rider who needs one board that will stand up to all conditions and terrain, all-mountain snowboards are designed to be versatile and easy to ride. From pow slashes in the morning, too park laps in the afternoon, these are the boards you can depend on no matter what the snow conditions are like. Scroll down to take a look at our top ten all-mountain snowboards for 2019, and don't forget to hit those play buttons for on-snow rider reviews of how they perform out on the mountain.
Top All-Mountain Snowboards
Nitro Quiver Series Fusion
Capita Defenders of Awesome
Slash Brainstorm
Burton Skeleton Key
Ride Warpig
Lib Tech EJack Knife
Jones Snowboards Explorer
Gnu Hyper Kyarve
Never Summer Proto Type Two
United Shapes Voyager Explorer Series
Nitro
Quiver Series Fusion Snowboard 2019
CAPiTA
Defenders Of Awesome Snowboard 2019
Slash
Brainstorm Snowboard 2019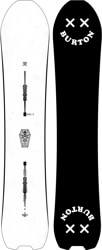 Burton
Skeleton Key Snowboard 2019
Ride
Warpig Snowboard 2019
Lib Tech
EJack Knife HP C3 Snowboard 2019
Jones Snowboards
Explorer Snowboard 2019
Gnu
Hyper Kyarve C2X Snowboard 2019
Never Summer
Proto Type Two Snowboard 2019
Shop All Mountain Snowboards
Nitro Quiver Series Fusion
A member of the Nitro Quiver Series line, the Fusion is a powerful, all-mountain snowboard that is designed to ride it all. Featuring Cam-Out Camber and a tapered shape, this board packs a ton of pop and response making it handle all conditions with ease. 20mm of set back to the stance ensures effortless float in powder, while the PowerCore II and 7/10 flex ensure stability and strength for high speeds and hard landings. The versatile characteristics of this board are the main reason it is the go-to for Tactics and Nitro team rider Jared Elston.
Capita Defenders of Awesome
The winner of countless Transworld Snow Good Wood awards, the Defenders of Awesome is the epitome of a freestyle board that can ride it all. Featuring an All-Terrain V2 Profile and Cabon Fiber Beams, the DOA is responsive when you want it and playful when you need. The true twin shape ensures effortless switch riding when lapping the resort or landing switch in powder. With key features like Fortress™ Kevlar Bound Sidewalls and a Superdrive™ Base, Capita continues to raise the bar on what a modestly priced, all-mountain board can do.
Slash Brainstorm
Highly versatile, the Slash Brainstorm is an all-terrain beast designed to charge all conditions and terrain. The directional twin shape and Backseat CamRock profile provide effortless float in powder and superior edge hold when riding adverse snow conditions. A favorite of Tactics and Slash team rider Andy Glader, the Brainstorm packs a high level of response and power thanks to the Buried Treasure blend of carbon fiber, Kevlar and basalt stringers underfoot.
Burton Skeleton Key
Designed for everything from resort ripping to untracked lines in the backcountry, the Skeleton Key is a versatile all-mountain board that is playful when you want it and aggressive when you need it. Featuring a Directional Camber Profile with an extended rocker nose, the Skeleton Key trenches turns with ease on groomer and in powder. Features like Squeezebox™ Core Profile and Balanced Freeride Geometry, ensure maximum response and control when on edge or maneuvering technical lines.
Ride Warpig
Designed for all-mountain ride-ability, the coveted Warpig allows riders to step down from their normal board size without sacrificing stability, float, and response. The short and wide profile of the Warpig allows it to be very maneuverable for tight tree runs or quick adjustments in powder. With a directional rocker shape and an ample amount of taper, the Warpig offers unmatched versatility and truly shines across the whole mountain. From waist deep pow slashes to trenching turns on groomers, the Warpig is your one board quiver.
Lib Tech EJack Knife
Tuned to the exact specification of Eric Jackson, the EJack Knife is a directional all-mountain board with a hint of freestyle influence. Featuring a responsive C3 camber profile, the EJack Knife packs power and stability while still remaining floaty in powder thanks to an extended nose and a directional shape. Complete with Horsepower (HP) Construction, Basalt Stringers, and reinforced sidewalls, this board is sure to perform as good as it looks.
Jones Snowboards Explorer
From park to powder, the Jones Explorer is designed to ride everything. Featuring a directional camber-rocker profile, the large blunted nose provides effortless float in powder while the setback camber maintains power underfoot for pop and edge control on side hits and groomers. The versatile medium flex and Biax Fiberglass laminate ensure lasting response and durability. Having won numerous awards the past few seasons, the Explorer has proven itself to be a budget-friendly, top-level all-mountain board that anyone can ride.
Gnu Hyper Kyarve
Lightweight, fast, and super responsive, the Gnu Hyper Kyarve is a directional all-mountain board built for airtime and powder slashes. The C2X profile blends camber with rocker for better float in powder and more pop when snapping ollies. Bi-Axial and Tri-Axial Fiberglass provides stability and response, while Magne-Traction edges ensure superior edge control in variable snow conditions. The fun shape and rideability of the Gnu Hyper Kyarve make it a great choice for intermediate-to-advanced riders who are looking to explore the whole mountain.
Never Summer Proto Type Two
A staple in the Never Summer line, the Proto Type-Two is a go-to for riders who need one board that will perform amazing across the whole mountain. Freestyle performance and all-mountain rideability make the Proto Type-Two one of our best selling boards year after year. Featuring an asymmetric twin shape, the Proto ensures amazing edge hold on groomers and variable snow conditions while the Ripsaw Rocker Camber profile provides the perfect blend of float and response. If you need one board that can handle park, powder, and everything in between, the Proto Type Two is the board for you.
United Shapes Voyager Explorer Series
Part of the Explorer Series, the Voyager is a directional board built to navigate the whole mountain. Featuring a positive camber profile and carbon stringer, this board handles tight tree runs and high speed with ease. Don't let the directional shape fool you, this board can handle switch riding very well and is a good option if you enjoy side hits and all-mountain freestyle riding. When the snow piles up, the 12+2 Deep Days setback inserts allow you to easily slam your stance back for maximum float and surf.