Любой из этих дизайнов может быть на вашей доске, закажите наклейку на сноуборд с любым прином.
Tis the season. That's right, the 2012-2013 snowboard season. And after last year dropped next to nothing on us and had us fiending for some white like we were Richard Pryor, we're praying to the snow gods to blast us with some wintery goodness. Besides, we need an excuse to take off from work.
And with that new season comes all new board graphics. From the always-great collabos from Burton to more classics from GNU, Yes, Capita, and more, this season's board graphics had us struggling to whittle our list down to just 25 of the best we've seen on the slopes.
While only time can tell if these will reach "classic" status like Brushie's infamous graffiti deck, they're all pretty nice to see flying off a 60-foot kicker while the young-bucks below try to grabbing that perfect light-leaked Instagram photo.
So here goes nothing—our list (for now) of the 25 best snowboard graphics this season. In no particular order.
25. Burton Restricted Mr. Nice Guy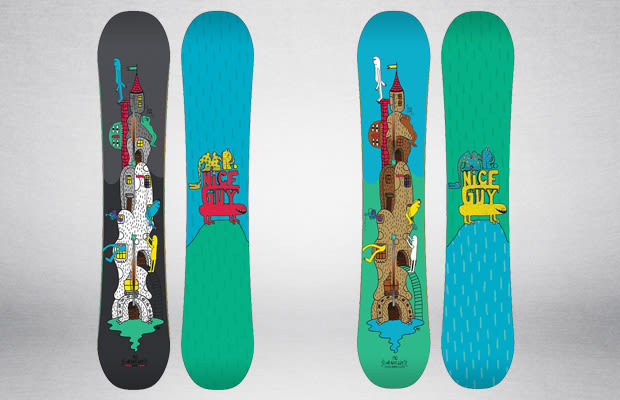 Maybe it's the simple illustration style. Or maybe it's the great color palette used throughout. But there's just something about the fairly-tale-wonderland-meets-Keith-Haring graphics that really does bring out the nice guy in all of us (and then make us want to take mushrooms).
24. Lib Tech Skunk Apes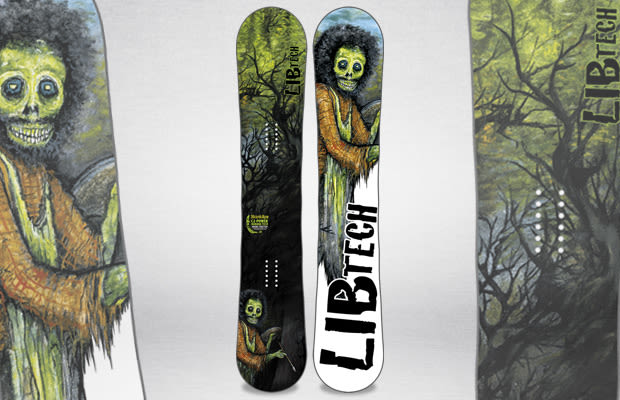 The graphics for this board are like Bob Ross on drugs, and the creepy paint-brush wielding dude looks like the notorious PBS star after he smoked a few of those happy little trees. So, travel into the dark forest with Lib Tech and the Skunk Apes. You won't regret it at all.
23. Ride DH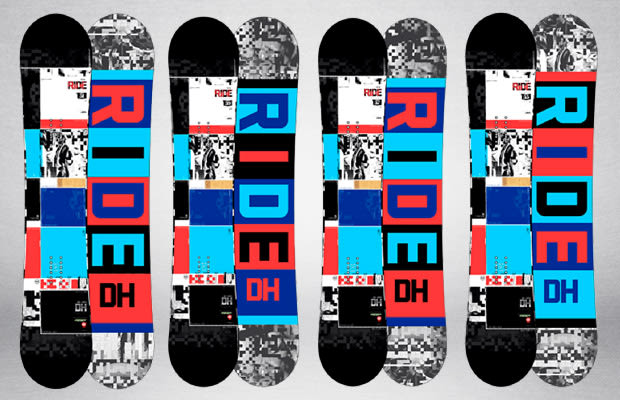 Every year, Ride comes through with some pretty awesome graphics. And this year, the DH takes the prize as the best. A mix between color blocks (in a great palette) and some 8-bit, digitized elements, the top and bottom sheets are equally awesome––something you don't see too much on the mountain.
</div> <div id='passback-wb258ff40d0'></div>
22. GNU Impossible A.S.S. Pickle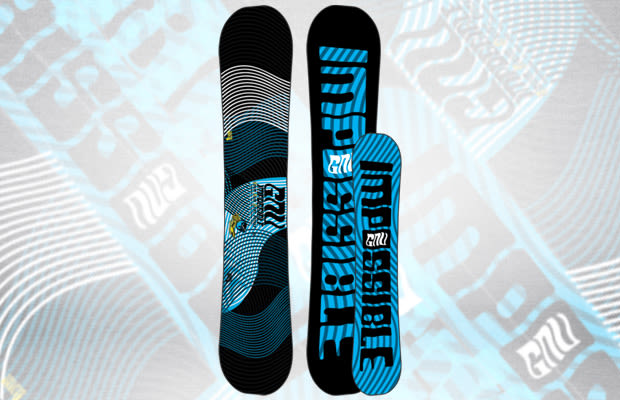 While a name like A.S.S. Pickle is nearly impossible to top, this year's model has some pretty great graphics. Wavy is the name of the game, and blue is the primary player. And with a killer type-treatment on the bottom sheet, the A.S.S. Pickle just got better—if that was even possible.
21. K2 Happy Hour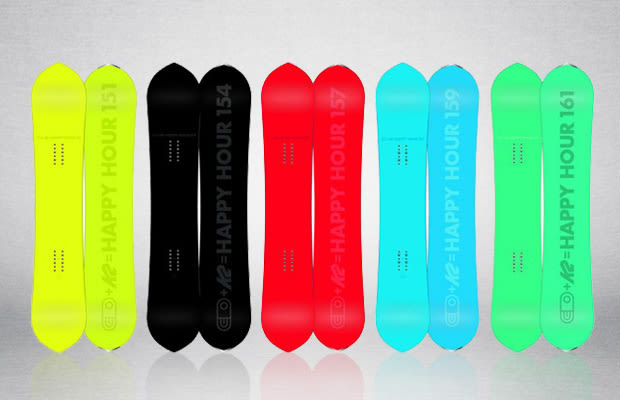 This year's Happy Hour series from K2 threw us for a loop. The dagger shape surely grabs your attention, but those pop colors brighten everything up. Simple logo and type graphics on the top/bottom sheets keep it straightforward—Airblaster and K2 equals Happy Hour.
20. Nitro T1.5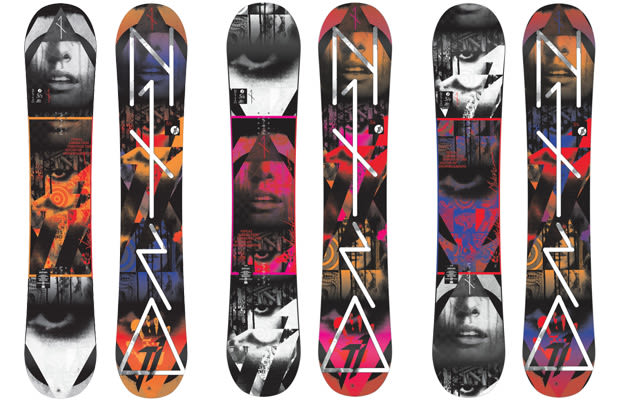 Like a cross between Lady Gaga and Slayer (which pretty much equals Courtney Love), the new T1.5 from Nitro looks like the perfect snowboard for Charles Manson. We're not sure what he would think of it all, but we're totally stoked on it. Unless, of course, it leads to Helter Skelter and murder instead of prime shredding.
</div> <div id='passback-wbe3cb6951c'></div>
19. Endeavor Color Series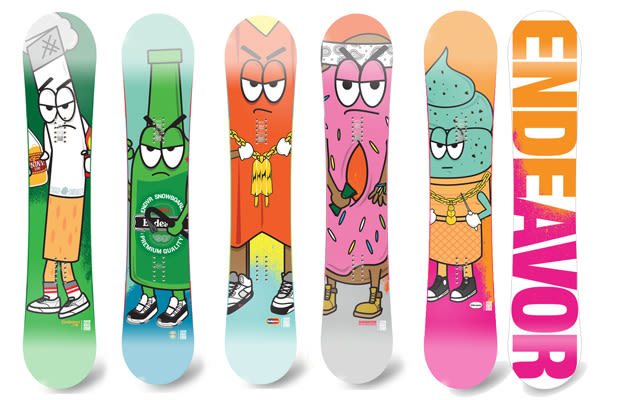 Vince Chan does it again for this year's Color Series from Endeavor. Fresh and clean might describe the ride, but tough and mischievous graphics of thuggish donuts, hot dogs, popsicles, ice cream, cigarettes, and beer give this year's Color Series a hard edge.
18. Technine MFM Mass Appeal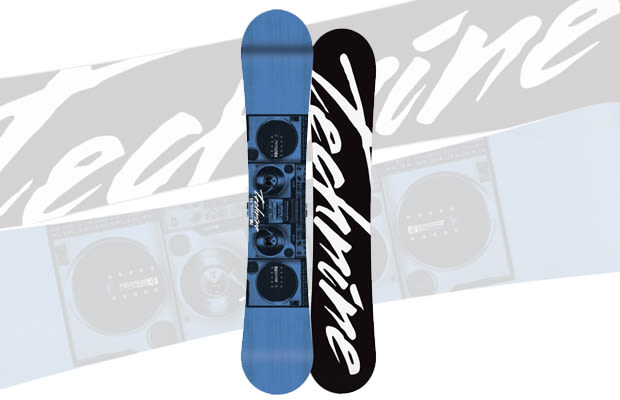 Money's growing like grass with the mass appeal for sure on this year's MFM board from Technine. Smooth flow is the perfect way to describe Montoya, and the ghetto blaster reminds you of the days when Guru was on the mic being laced by Primo beats, the perfect compliment to MFM's classic steez.
17. Niche Theme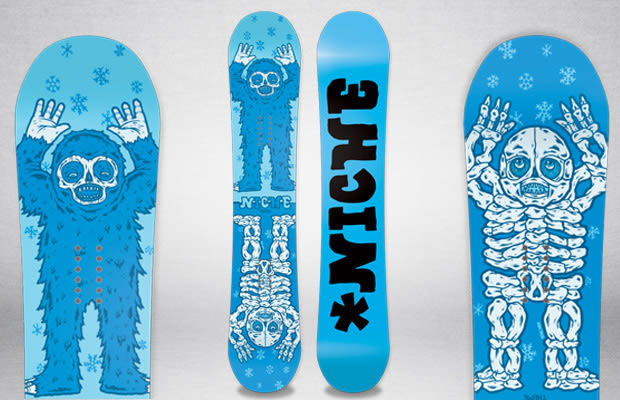 Yeti graphics and snowboarding kind of go hand-in-hand towards played out territory, but Michael Sieben straight kills it for Niche Snowboards by flipping the script a little with a stripped-down yeti skeleton. Plus, the Niche type on the bottom sheet is a thing of beauty.
</div> <div id='passback-wb759895f77'></div>
16. Salomon Salomander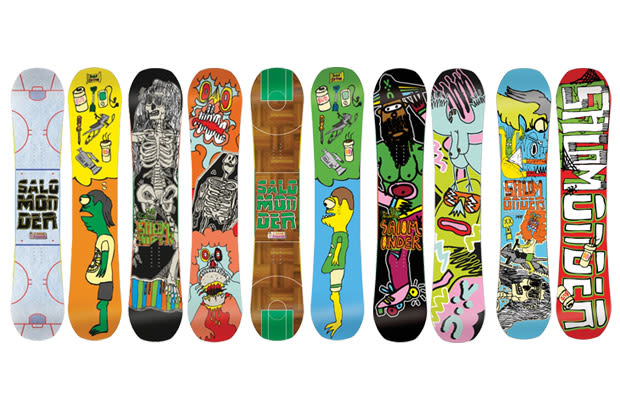 One of Salomon's staple models, the Salomander steps it up a notch this season in terms of graphics. Simple illustrations remind us of skate decks, which meshes perfectly with the board's jibbing capabilities. Plus, how can you front on a bird with some sagging boobs?
15. Capita Ultra Fear FK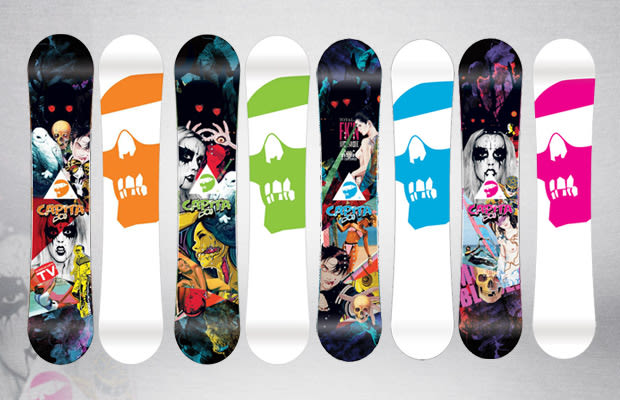 Ephka creates some seriously awesome collages for the Capita Ultra Fear. Layers of heavenly bodies, anime characters, skulls, black-metal babes, and more, the Ultra Fear graphics are like a totally awesome horrible bad dream that you definitely do not want to wake up from just so you can see how it all plays out.
14. Burton Easy Livin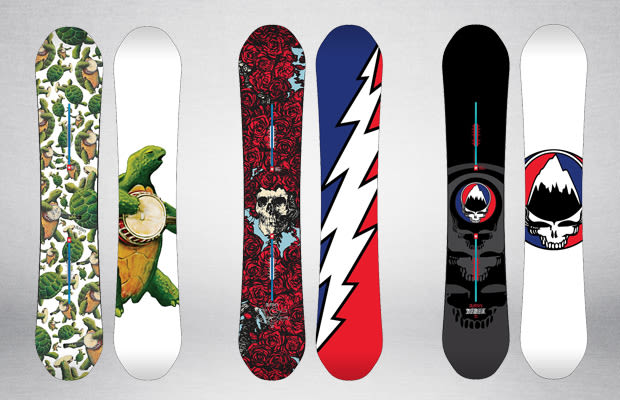 Nothing says Easy Livin like putting a Grateful Dead record on, lighting up a joint, and just chilling in your parents basement. But, if there's some good pow on the ground, get your ass out of the house and onto the mountain with these Deadhead boards from Burton.
</div> <div id='passback-wb2fb9f22d0'></div>
13. StepChild PMS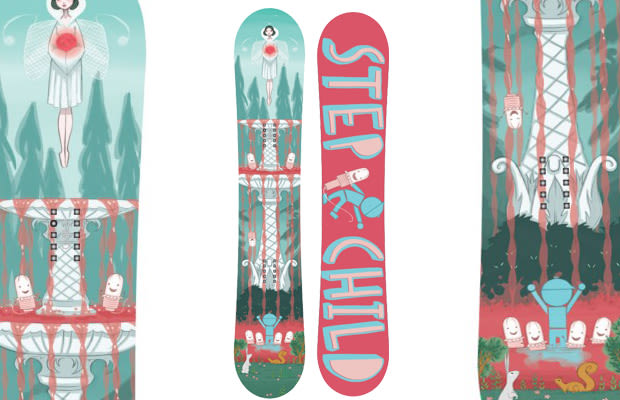 Leave it to StepChild to make PMS cute and give heavy flow a new meaning. While the crimson tide definitely makes its mark on this board thanks to guest artist Krista Huot, it's cutesy and fun, like that time of the month should be. So, join hands with your PMS and take it for a nice stroll down the mountain. It'll thank you.
12. DC Mega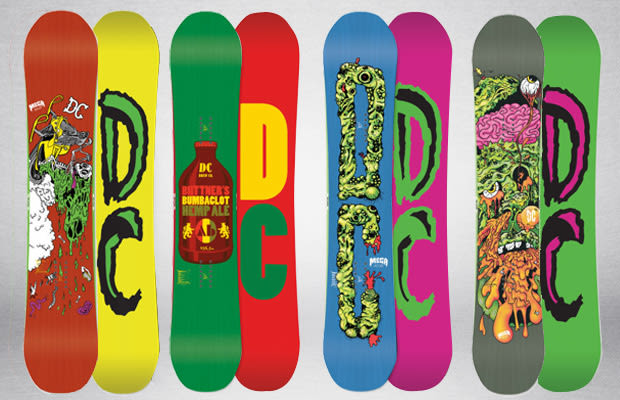 Creepy, crawly, grotesque, and gross. What more could you ask for? How about some of Bittner's Bumbaclot Hemp Ale? Either way, the Mega has a little bit of everything––great typography, great illustration, and rasta colorways. All marks of truly great board series
11. Yes Trouble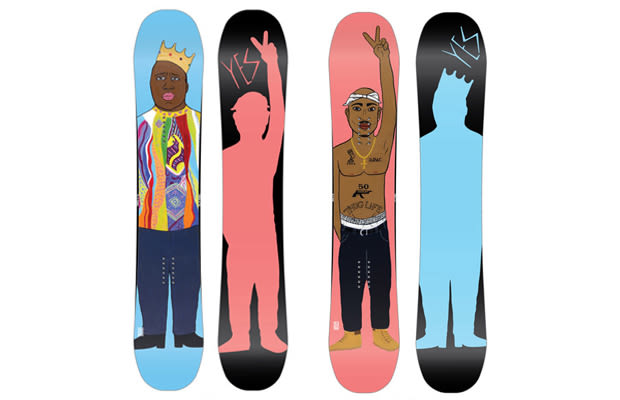 Leave it to Thom Lessner to bring Biggie and Pac together at last. His illustration style gives new life to two of hip-hop's fallen heroes. Let's put the arguments to rest finally and agree that these two were both the greatest. Good? Let's go shred while blaring "Machine Gun Funk" followed by "Hit 'Em Up."
</div> <div id='passback-wbbfe9555c8'></div>
10. Salomon Gypsy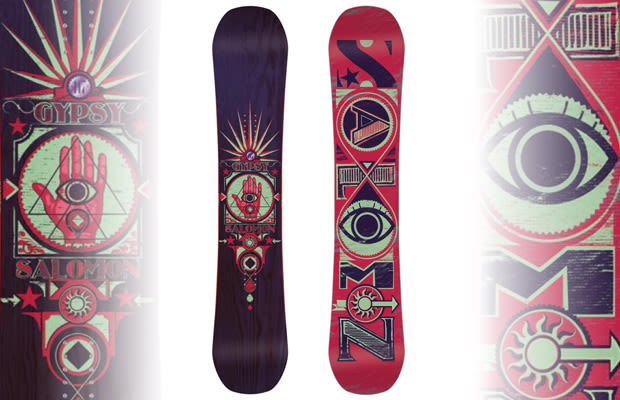 Salomon channeled their inner palm-reader for this one. Cryptic imagery reads like an occult relic on the top sheet. But the true gem on this board is the type treatment on the bottom sheet––hands down (pun intended) the best use of type on a board this season.
9. Capita Totally Fk'n Awesome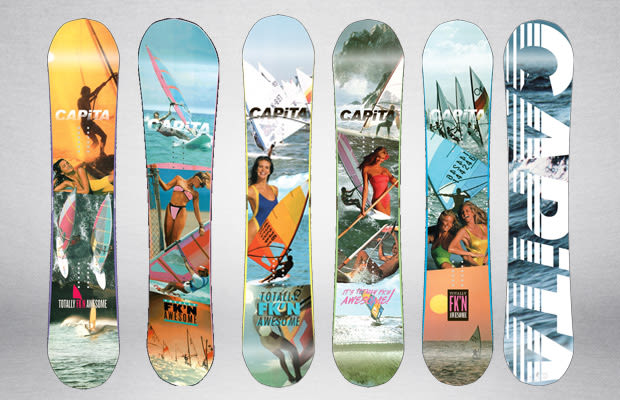 With a name like that, your boards had better live up to it. And boy, do they ever. It's like Miami Vice in snowboard form with bikini beach babes, windsurfers, waves, and plenty of 80s style type treatments and neon. The only thing missing is some chest hair. These have definitely been bringing some heat to the mountains this year.
8. DC PBJ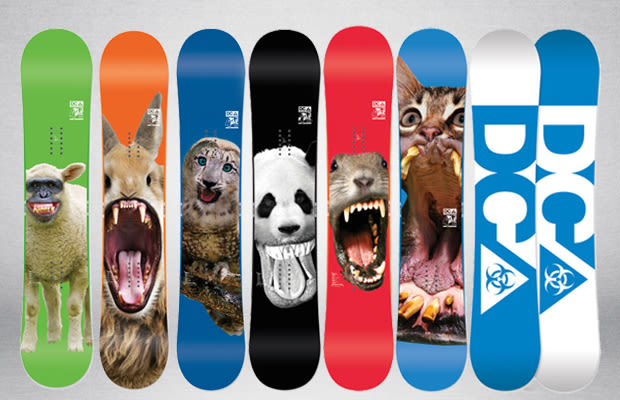 Radioactive hybrid animals with fangs chomping at the bit. Sounds scary as shit, right? It is. But that's the PBJ from DC. And the bio-hazard warning label is right there on the bottom sheet as a fair warning. But these crazed, animal mash-ups are staring you right in the eyes as you try to stick that landing.
</div> <div id='passback-wb85a6f11f5'></div>
7. Burton Joystick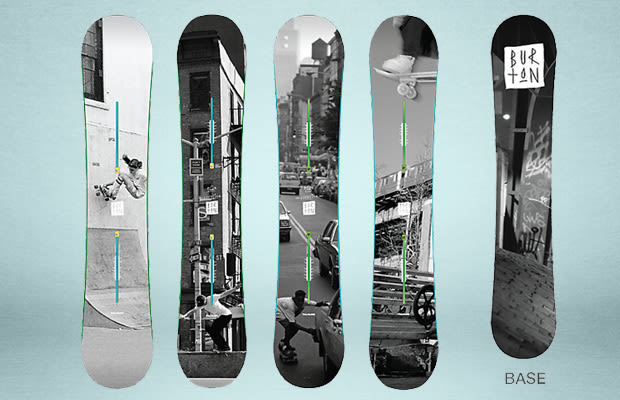 Bringing some NYC street grit to the slopes, the Joystick is a collaboration with "Full Bleed," a book celebrating 30 years of skateboarding in the Big Apple compiled by Alex Corporan, Andre Rizzo, and Ivory Serra. Photos from the book highlight this series, including one of the late, great Harold Hunter.
6. Rome Crossrocket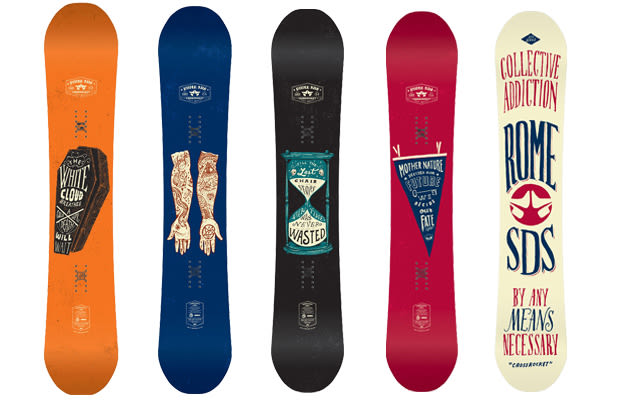 While ushering in their 3D camber profiling for that oh-so-buttery ride, it's the graphics that immediately got us hooked. Distinctly Jon Contino, the New York graphic artist gives you the choice of a banner, hourglass, arms, or coffin theme with hand-set type of shred-inspired slogans.
5. GNU Limited Edition B-Pro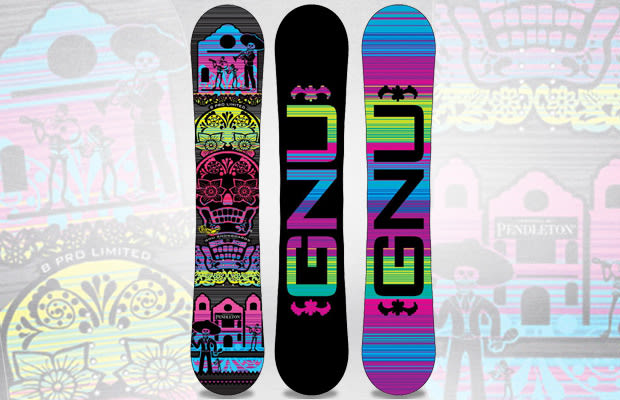 GNU links up with Pendleton for this Day Of The Dead inspired board. Pulling graphic elements from the cozy and warm blanket from the woolen mills company, the B-Pro brings together the Pacific Northwest and Mexico. Plus, the board comes package with the blanket—perfect for a snuggle-up sesh in the lodge on those extra cold days.
</div> <div id='passback-wb9e1a80e0f'></div>
4. Arbor Westmark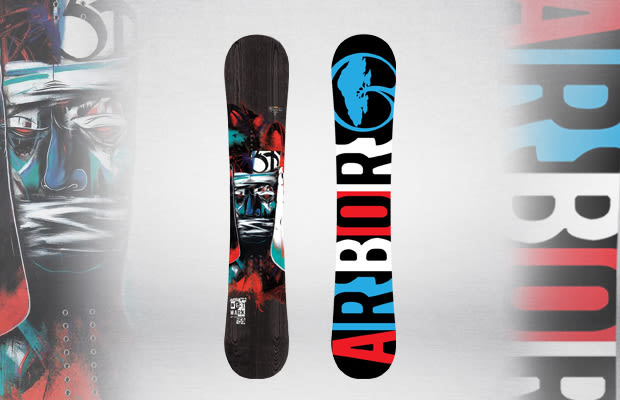 While always bringing a great artist collaboration to the fold, Arbor ups the ante this year by nabbing the famed Dave Kinsey. For long, Kinsey has been a favorite of ours, and his work translates to the world of snowboards just as easily as it does the canvas with one of his signature cryptic faces making their mark.
3. K2 Fastplant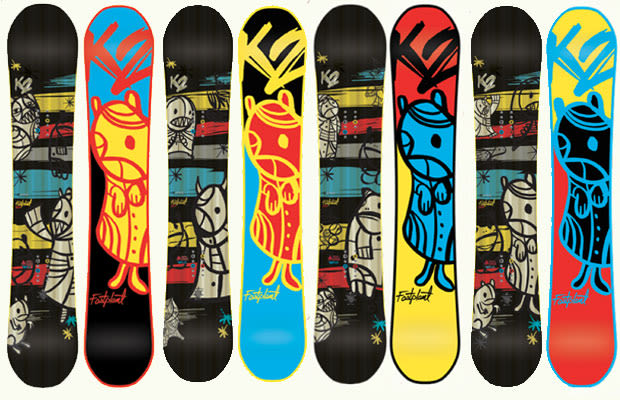 Two-words: Don Pendleton. The legendary artist once again links up with K2 for this year's Fastplant series, bringing his skateboard graphic style to snow. His signature characters and scrawlings, which find their way on both the top and bottom sheets, are done in a simple red, yellow, blue, black, and gray colorway making a solid series where it's nearly impossible to choose a favorite.
2. Burton Vapor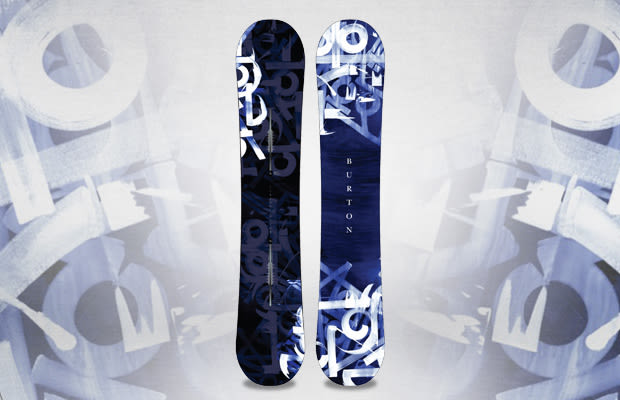 The Vapor has always been a signature model for Burton in terms of functionality and technology, but the design has always emphasized minimalism. With Futura providing graphics in the past, Burton turns their attention to the new generation of street artists with Retna, whose intricate, layered strokes make this one of the best designs of the season.
</div> <div id='passback-wb6a7599dbe'></div>
1. Yes The Greats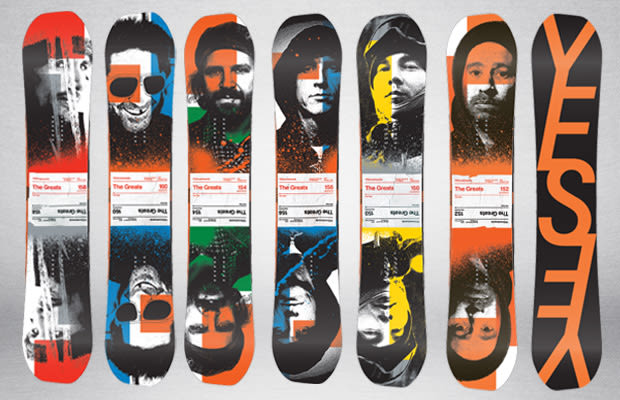 Jamie Lynn, Peter Line, Ingemar Backman, Terje Haakonsen, Craig Kelly, and Shawn Farmer. These are The Greats according to Yes. Paying homage is the best way to stay humble. And paying homage to these Greats makes for some killer board graphics.